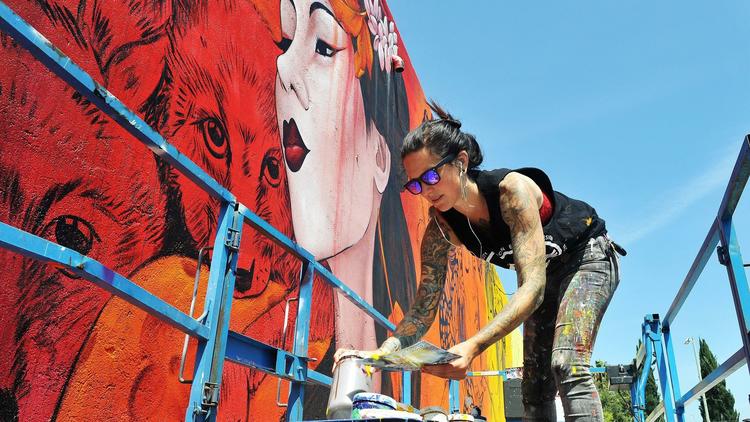 Because of their capacity to lift people and things up and to move them to where they're needed; these practical machines, commonly known as ¨portable elevators,¨ have become prime tools in both commercial and industrial environments. Scissor lifts are the equipment that could substitute ladders. They offer a resistant and wide working platform at heights which is very convenient for those who carry their labors in elevated spaces.
While we most commonly think of scissor lifts as construction equipment, they have many other odd jobs. Due to their practicability and versatility, scissor lifts are used for heavy lifting in any field. In this article, we present you some ¨unconventional¨ or ¨unexpected¨ jobs for scissor lifts that could give a notion to their wide range of uses.
1. Cleaning
This machine is great for cleaning buildings with big windows,  hallways with high hanging paints, houses with high ceilings, and tall staircases.  Commerical cleaning companies develop methods to reach these spaces so that every corner can be cleaned and shining like diamonds: ladder, scaffolds, pulley systems. Other companies,  use scissor lifts to get to these challenging spaces. The wide and resistant platform offer their personnel the proper space to carry their instruments and clean every inch of those.
2. Landscaping
Grooming and trimming trees, bushes and grass is not an easy task. In order to reach high into greenry or give them those appealing shapes, lanscapres need a certain amount of "perspective" Landscapers sometimes struggle to reach most of the spaces with their big and heavy equipment which if misused or badly handled, could lead to dangerous consequences. As a way to reduce the possibilities of carrying heavy duty equipment in the unstable surfaces that ladders offer and the risk of injuring themselves or anybody else; gardeners have started to use scissor lifts on landscaping projects.
3. Retails
When you see a retail store, you are likely only seeing a small percentage of the stock. Most of the times the retail stores hold additional merchandise in a big room full of shelves. Due to the quantity of merchandise stored in their warehouses, getting into specific articles, replenishing the stock, or even organizing it can become a complex and risky activity. They're often stored on tall shelves and out of reach. With the mobility and space that scissor lifts provide, retail stores are now using them more to move boxes from one place to another, organize the store, and reach units on high shelves.
4. Overhead Signs
Signs and posters are commonly placed in high structures so they can call people's attention and resist any environmental condition. It's strategic placement. However, they are hard to reach. The methods for installing signs vary; sometimes companies use elevator systems with wires and a platform. Sometimes the sign itself has a built-in ladder structure, but not platform for working equipment. Where ladders or scaffolds were used before, scissor lifts have been integrated more and more; not only for the platform but the movement of the whole machine has given sign installation a whole new dimension.
5. Delivery and Shipping
If you have ever seen a shipping room, you know how big and chaotic is. The products' sizes and quantities could represent a challenge for both manufacturing and delivery companies. Scissor lifts are ideal for organizing, storing, and stockpiling the many products that companies have for their delivery and getting them to the shipping carriers. It's one of the safest ways to move large units from tall shelves in bulk and transport them.
When doing any job, it is important to try and find the equipment, supplies, and team that could best assist and grant quality results. We might be tempted to stick with the same methods we have always used, but sometimes, the introduction new equipment can vastly improve the work environment. The right tool can free up time, energy, and peace of mind. Scissor lifts are great all-around machines with many unexpected uses. Not only do they make our jobs easier by doing all of the heavy lifting; they can make our work safer. What more can we ask for?
Looking to rent a scissor lift for your unexpected job? Browse our scissor lifts here.